PowerLaunchTM Statistics Catapult for Six Sigma
The Klonworks powerLaunch-> Catapult is designed to create highly accurate, multivariate experimental data that will aid students in gaining a very comprehensive understanding of statistical analysis. PowerLaunch-> is the best catapult on the market for Six Sigma or any other statistics training course, bar none!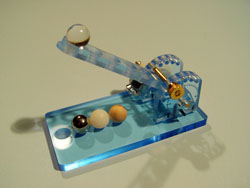 [Click to view more images/features]
Compact, portable and durable acrylic and duron.
Highly accurate and consistent experiments
Spring driven worm gear adjustable tension
Convenient ball storage area
MSRP $249.95 Contact us for volume discounts.
Nothing is more frustrating than cheap wooden or plastic catapults with flimsy, stretching or snapping rubberbands to destroy a perfectly conceived experiment. Students learning multivariate analysis in Six Sigma should not have to fight lousy experimental equipment. The goal of the catapult exercise is to teach the power of multivariate analysis and help students achieve highly accurate experiments with controllable variables and predictive models. the powerLauch-> catapult was designed precisely for the purpose of allowing Six Sigma students to be creative and still achieve the objectives of the exercise.
Additionally, these catapults make the perfect gifts for Green Belt or Black Belt graduation. When students have completed their requirements and have certified, the catapult from their training course is the perfect Six Sigma graduation gift. It will inspire students to work for their certification and stand as a reminder of the concepts they have learned long after their training is over.
PowerLaunch Six Sigma Catapult Sales Division
Klint Washburn
P: (801) 390-1321
E:
sales@klonworks.com